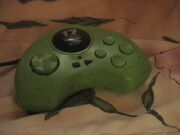 Vs. Maxx is a series of plug & play TV games created by Senario. They use JungleTac hardware for most of their game controllers.
They are also known as Video Extreme.
Known vs. Maxx Controllers
Edit
Texas Hold 'em TV Poker
17 Video Games
15 Video Games
50 Video Games
25 Video Games
Maxx Play
10 in 1 Casino Game
Video Extreme 50 in 1
Ad blocker interference detected!
Wikia is a free-to-use site that makes money from advertising. We have a modified experience for viewers using ad blockers

Wikia is not accessible if you've made further modifications. Remove the custom ad blocker rule(s) and the page will load as expected.