The Walking Dead: Battleground
is the sequel to 2012's
The Walking Dead: Zombie Hunter
released in 2014 developed by Merge Interactive and published by Jakks Pacific Interactive.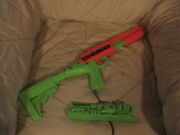 The shotgun controller shell and color scheme and sensor may look the same as Zombie Hunter, but the only difference is that the controller has blood drips on it and the sensor bar is green and has blood drips. A special Crossbow version with the controller shaped like a crossbow was also released, and is exclusive to Walmart stores.
The box states it as a first person shooter, but the game looks to be another rail shooter.
Ad blocker interference detected!
Wikia is a free-to-use site that makes money from advertising. We have a modified experience for viewers using ad blockers

Wikia is not accessible if you've made further modifications. Remove the custom ad blocker rule(s) and the page will load as expected.