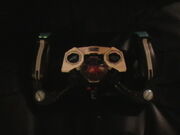 Star Wars Republic Squadron is a Plug-N-Play TV Motion Game released by Jakks Pacifc in 2009 and is currently the best-selling TV Motion Game. The republic starship controller features A, B & back trigger buttons.
The game is a motion controlled rail shooter, with twenty-one missions, Each in five campains. The fith campain is locked, complete the other four campains in order to unlock.
Ad blocker interference detected!
Wikia is a free-to-use site that makes money from advertising. We have a modified experience for viewers using ad blockers

Wikia is not accessible if you've made further modifications. Remove the custom ad blocker rule(s) and the page will load as expected.