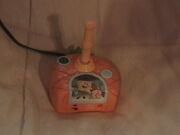 SpongeBob SquarePants: Dilly Dabbler was a TV Kids controller released by Jakks Pacific in 2004.
Built-in games
Edit
Mr Spongehead
Seaside Sliders
Gary's Gooze Art
Mix and Match Patrick
Color Me Spongy
Metal Shaving Makeover
Krabby Patty Fry Fest
This controller was originally going to be called The Return of SpongeBob, but was later changed to Dily Dabbler.
Ad blocker interference detected!
Wikia is a free-to-use site that makes money from advertising. We have a modified experience for viewers using ad blockers

Wikia is not accessible if you've made further modifications. Remove the custom ad blocker rule(s) and the page will load as expected.