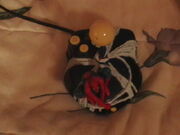 Spider-Man & The Villian Round-Up is a Plug It In & Play TV Game released in 2006 developed by HotGen and published by Jakks Pacific. It is Editon 2 of the Spider-Man TV games line.
The game was re-released in 2012 in a TV Games Touch controller. Touchpad version was re-developed by Code Mystics.
Built-In Games
Edit
Bank Strike
In this platforming sidescroller, Spider-Man must rescue the hostages in each stage and defeat bosses like the Kingpin.
Arcade's Playland
Similar to Smash TV, Spider-Man must destroy the robots with his web sling.
Building Blaze
Spider-Man must make his way out of the building before it collapses.
Comic Book Shuffle
This puzzle game has you matching various characters blocks (Green Goblin, Mary Jane, etc.).
Incendiary Anitcs