Spider-Man
is a Plug It In & Play TV Game released by Jakks Pacific in 2004. The controller has five built-in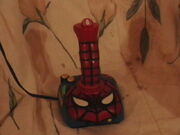 games, one of them being a plaform game.
Built-In Games
Edit
The main game, where Spider-Man has to collect money bags and defeat enimes like Rhino Man,Defuse bombs then defeat scorpion,Then collect EMPs and defeat electro,And finally collect plutonium and defeat the goblin.
Spidey has to shoot web at the bad guys, but not the good guys, or you lose a life
Spidey shoots web at the bombs Vemon throws down
Spidey has to make his way through a sewer and disable the bombs.
Spidey is hanging on a construction beam and has to shoot web at the missiles the protect him.
Ad blocker interference detected!
Wikia is a free-to-use site that makes money from advertising. We have a modified experience for viewers using ad blockers

Wikia is not accessible if you've made further modifications. Remove the custom ad blocker rule(s) and the page will load as expected.