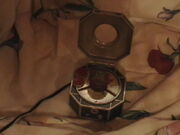 Pirates Of The Caribbean: Islands Of Fortune was a Plug It In & Play TV Game system released by Jakks Pacific in 2007 and was re-released in 2011 in honor of the release of Pirates of the Caribbean: On Stranger Tides.
The controller is in the shape of a compass that opens up.
Built-In Games
Edit
There are three games on each island The World Map is used to go from island to island.
World Map
Sword Fighting
Cannon Battle
Treasure hunt
Ad blocker interference detected!
Wikia is a free-to-use site that makes money from advertising. We have a modified experience for viewers using ad blockers

Wikia is not accessible if you've made further modifications. Remove the custom ad blocker rule(s) and the page will load as expected.