Nicktoons Summer Camp
is the 2005 sequel to 2004's
Nicktoons
TV game developed by Handheld Games LLC and published by Jakks Pacific.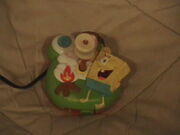 Built-in games
Edit
You play as either Timmy Turner, SpongeBob, Waffle or Danny Fenton in these five games:
Camp Trail Marathon
Rope Swing Toss
Flashlight Tag
Cabin Assault
Sailboat Racing
You can do either quick play or tournament.
Ad blocker interference detected!
Wikia is a free-to-use site that makes money from advertising. We have a modified experience for viewers using ad blockers

Wikia is not accessible if you've made further modifications. Remove the custom ad blocker rule(s) and the page will load as expected.