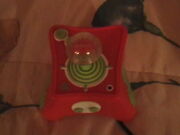 The
Nicktoons TV Game
is a Plug It In & Play TV Games released by Jakks Pacifc in 2004 and Developed by Handheld Games, LLC.
The unit is GameKey ready, a GameKey is available for this controller.
Built-In Games
Edit
Fairy Oddparents: Channel Chasers
SpongeBob SquarePants: Delivery Service
Rocket Power: Downhill Skateboarding
Jimmy Neutron: A Beautiful Mine
SpongeBob SquarePants: Kash Dash
A GameKey is availble for this controller, it contains these games:
Nicktoons Volleyball
Birde Putt
Ad blocker interference detected!
Wikia is a free-to-use site that makes money from advertising. We have a modified experience for viewers using ad blockers

Wikia is not accessible if you've made further modifications. Remove the custom ad blocker rule(s) and the page will load as expected.