The
Justice League
TV game was released in 2005 developed by Taniko and published by Jakks Pacific. It was available in both standard and
GameKey
Ready versions (Even though no GameKey was released for the unit).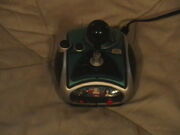 Game on unit
Edit
Assault on the Watchtower
War World Challenge
Flight to OA
Imperium Crisis
Apokolips Skies

11:21

TV Games Reviews 121 Jakks Pacific Justice League
Ad blocker interference detected!
Wikia is a free-to-use site that makes money from advertising. We have a modified experience for viewers using ad blockers

Wikia is not accessible if you've made further modifications. Remove the custom ad blocker rule(s) and the page will load as expected.