Hannah Montana: Pop Tour
is a deluxe TV games by Jakks Pacific released in 2008 as part of their
g2
lineup. The game is a lot like Guitar Hero, Hannah Montana Style. You tour cities & play songs to unlock other cities & songs.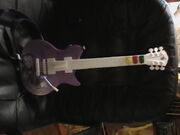 There are ten Hannah Montana songs bulit in:
The Best Of Both Worlds
The Other Side Of Me
Just Like You
Nobody's Perfect
Pumpin' Up The Party
This Is The Life
I Got Nerve
Life's What You Make It
If We Were A Movie
Rock Star
Ad blocker interference detected!
Wikia is a free-to-use site that makes money from advertising. We have a modified experience for viewers using ad blockers

Wikia is not accessible if you've made further modifications. Remove the custom ad blocker rule(s) and the page will load as expected.