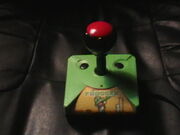 The
Frogger TV Arcade
is an 8-bit TV Game released by Majesco in 2004 as part of their TV Arcade controllers. This game controller only has one game, called Frogger.
The game can also be found on the Konami Collector's Series: Arcade Advanced TV Arcade controller, also by Majesco.
The unit was re-released by MSI Entertainment in 2016.
Built-in Game
Edit
Frogger This is the original arcade Konami Frogger from circa 1981. However, it has Jungle Tac hardware & some sounds are ripped from other games on the NES.
Ad blocker interference detected!
Wikia is a free-to-use site that makes money from advertising. We have a modified experience for viewers using ad blockers

Wikia is not accessible if you've made further modifications. Remove the custom ad blocker rule(s) and the page will load as expected.