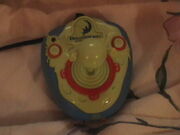 Dreamworks Animation is a Plug It In & Play TV Game system with 5 games based off Dreamwork's Shrek and Over The Hedge movies released by Jakks Pacific released in 2006.
List of Games
Edit
Three and two games have two different themes.
Shrek
Donkey Dash
Shrek Pinball
Crooked Castle Golf
Over The Hedge
Dash For Trash
Snack Packer
The delovper, Handheld Games LLC, makes these games for Jakks TV Games but some are each have the same game in a different name and a different theme. This controller, four of the games are from the Nicktoons and Dragon Ball Z controllers and a GameKey, while one is original.
There is a GameKey screen when you turn the unit on.
Ad blocker interference detected!
Wikia is a free-to-use site that makes money from advertising. We have a modified experience for viewers using ad blockers

Wikia is not accessible if you've made further modifications. Remove the custom ad blocker rule(s) and the page will load as expected.