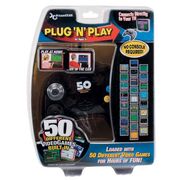 DreamGear's My Arcade are a series of plug-n-play controllers. Each controller uses famiclone hardware. They were first introduced in 2002 in their BigDeal! Pak video game acessory line.
They produced versions of their My Arcade controllers each with different games inside. However some of the controllers have games by JungleTac and mostly Nice Code games.
List Of Known DreamGEAR My Arcade Controllers
Edit
50 in 1 (JungleTac version)

My Arcade 30 in 1

25 in 1
Wireless Baseball with 41 games
Wireles Boxing With 60 games
Wireless Table Tennis with 41 games
Wireless Tennis Rally with 40 games
Wireless Tennis with 41 games
Wireless Motion Control with 130 games
Ezjam Jr.
Dual Fight Sticks
Twin Turbo
Controller Design
Edit
The design of each controller is most likely from other famiclone controllers. For example the 15 in 1 game uses the controller shell from the TV Play Power by Techno Source.
External Link
Edit
Ad blocker interference detected!
Wikia is a free-to-use site that makes money from advertising. We have a modified experience for viewers using ad blockers

Wikia is not accessible if you've made further modifications. Remove the custom ad blocker rule(s) and the page will load as expected.