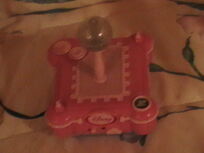 The
Disney Princess plug-n-play TV joystick was a Jakks TV Game released in 2005 by Jakks Pacific.
The unit is also GameKey ready, a GameKey was released for this TV game.
The Disney Princess Game
It is a board game, you play as either Cinderella, Snow White, Belle, or Ariel in the game. The goal is to get the most coins as possible. There's nine minigames to play during the game for coins.
Minigames:
Balloon Bounce
Bubble Machine
Decorate The Castle
Design A Necklace
Memory Pairs
Choose A Chest
Music Mimic
Princess Party
Coins And Wishes
The Gamekey is themed around Snow White And The Seven Dwarfs, contains two games:
Rescue Race
Memory Chase
Ad blocker interference detected!
Wikia is a free-to-use site that makes money from advertising. We have a modified experience for viewers using ad blockers

Wikia is not accessible if you've made further modifications. Remove the custom ad blocker rule(s) and the page will load as expected.