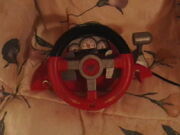 Cars 2
is a Plug It In & Play Racing Video Game based off
the movie
released by Jakks Pacific in 2011. The steering wheel controller has a key on/off switch, drift buttons, and horn button.
The unit was discontiuned in late November.
The racing game contains fourteen levels (not including the tutorial) with boss battles.
Tokyo - Tutorial
Tokyo - Downtown
Tokyo - Countryside
Tokyo - Freeway
Tokyo - Trouble
Tokyo - Runway Escape
Porta Corso - Harbor
Porta Corso - Town
Porta Corso - Coastline
Porta Corso - Chase
London - Park
London - Main Street
London - City
London - Dash For Mater
London - Professor Z Pursuit
External Link
Edit
Ad blocker interference detected!
Wikia is a free-to-use site that makes money from advertising. We have a modified experience for viewers using ad blockers

Wikia is not accessible if you've made further modifications. Remove the custom ad blocker rule(s) and the page will load as expected.