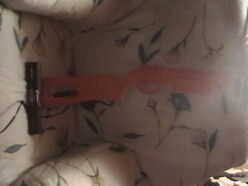 Big Buck Hunter Pro is a deluxe hunting TV game based off the arcade game of the same name by Play Mechanix. Released in 2009 by Jakks Pacific and delovped by SuperHappyFunFun. A two player version was also released with the controllers green and orange.
In 2011, The TV game was discontiuned afterwards and a sequel was released called Big Buck Safari.
In 2012 it was sold again only from april 2 to december 24 only the one player was sold 
Built-In Game
Edit
Big Buck Hunter Pro
The game is just a Big Buck Hunter Pro arcade port where you just shoot down bucks and not the does. You play either 1 trek or 3 treks hunting adventure. There's also minigames you play at the end of your hunting adventure.
Ad blocker interference detected!
Wikia is a free-to-use site that makes money from advertising. We have a modified experience for viewers using ad blockers

Wikia is not accessible if you've made further modifications. Remove the custom ad blocker rule(s) and the page will load as expected.