The Activision 10-in-1 is a TV Games Video Game System released in 2000 (with copyright year of 2001) by Toymax. Some say this is one of the oldest Plug and Play systems, but it is unclear if it was is THE oldest one out there. When Jakks Pacific bought out Toymax, they later reintroduced it in 2004 with a new controller design.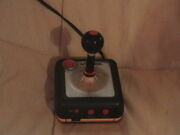 Built-In Games
Edit
Toymax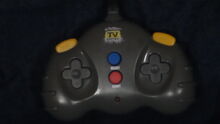 The original Toymax version has a very odd shape. It has 2 D-Pads, and 2 action buttons. They come in a varity of colors:
Red
Blue
Yellow
Green
Grey
Jakks Pacific
The later Jakks Pacific version is simlar to the Atari TV game, with a button on the top of the joystick.
Ad blocker interference detected!
Wikia is a free-to-use site that makes money from advertising. We have a modified experience for viewers using ad blockers

Wikia is not accessible if you've made further modifications. Remove the custom ad blocker rule(s) and the page will load as expected.